To all students who will soon be departing for Boston:
During the meeting in Cosmos Hall on January 21st, Bando-sensei offered some important remarks and advice to you, which I hope you will take to heart. In addition, I – and I'm sure everyone present – were deeply impressed by the speeches made in English by students from each department. You're off to a good start!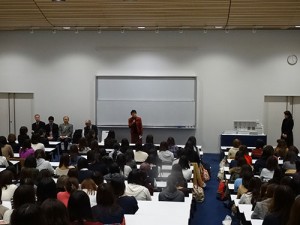 You are all about to embark upon a new adventure. With initiative and motivation on your part, your time at Showa Boston will give you a deeper and broader understanding of the English language and American culture, and the experience of living away from home will help you to further develop as a person. The teachers and staff at Showa Boston are all there to support you in this, so please don't hesitate to ask for guidance or advice whenever you need it. Study hard, and have fun!
Arthur O'Keefe
——————————————————-
I'm honored to be here, because going to Showa Boston was one of my main reasons that I applied to Showa Women's University. I'll talk about three things.
The first one is my purpose of this program. Being a person who can communicate internationally is one of my dreams. I'm going to Showa Boston to make my dreams come true.
The second is two things what I would like to do in Boston. One is talking with lots of people. In my opinion, the best way to learn English is to have many conversations with native speakers. So I will go out as much as possible. The other is not to be afraid of making mistakes. Some students tend to care about it. But I've heard that the teachers in Showa Boston are very kind and encouraging. I'm certain that this is going to be a great opportunity to improve English skills. So when I talk to teachers, I will try not to be shy.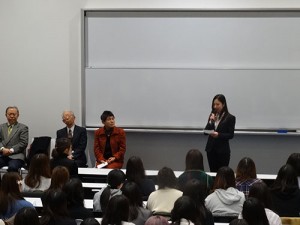 The last topic is about how I would like to be by the end of the program. I would like to be independent. All of us, friends and classmates, are going to live together at the dormitory. This can be helpful to accomplish my target.
I'm sure that the life in Showa Boston is going to be a precious experience. I will do my best!! Thank you for your attention.
I.S