At last we have to leave Cheltenham this morning.
Each host family kindly sent us off with gentle smiles.  We could not help crying.  "Oh, do not cry…" said host families.  We hugged each other and promised to meet again soon.
The last word we said each other was "Good bye".
Lastly we visited Windsor Castle.  The royal flag was seen on the top of the tower of the castle.  This meant that the Queen Elizabeth was staying there probably because she was on Easter holiday.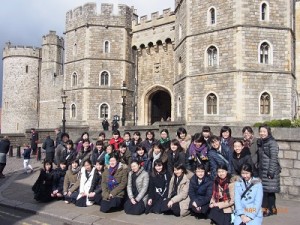 At the gate we could hear the perky sound of the brass band played by the guards.
It was the changing of the guard.  We saw them dressed in red uniform!  We were so lucky that we could see both season uniforms: summer at Windsor and winter at Buckingham Palace.
Spring has come to England.
We will soon come home, Tokyo where the cherry blossoms are in full bloom.
Showa Viewで私たちの英国短期留学15日間を
見守ってくださいました皆さまありがとうございました。
第45回英国短期留学、収穫のうちに幕を閉じます。