~First of all, if you keep reading this article until the last page, something happens in the end ~ 
Hi, I'm Moe.
We went to Shin-Enoshima Aquarium on the way to Tomei and one of my friends was attracted by jelly fish.  Since she knows much about the biology of jelly fish and told us that 95 percent of it is consisted of water, jelly fish gradually dissolve with water.  I was so surprised at the fact.
After we got here in Tomei, we enjoyed chatting, doing lots of homework, eating lots of snacks, preparing for English Activity, and talking about our future.  Through those activities, we have already become closer to each other.  Fortunately, we could see Mt. Fuji and took pictures a lot.
In the night of the second day, we had Tomoshibi no Tsudoi.  We talked about our favorite things and tourism based on our seminar.  For example, I talked about uncomfortable and comfortable infrastructure of Boston and Japan.  That time was enough worthwhile to get to know well about my precious, wonderful, beautiful friends.  We will keep up ourselves and enjoy the rest of the day!
By the way,
Do you know a painting in Cafeteria…….?
There is………..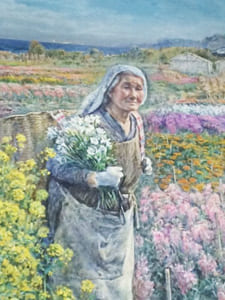 …….TAKESHI!!!!!!!!!