Today was a full day of excursions.
First, we visited Strat-upon-Avon, 45 minutes drive from Cheltenham. This is the place where William Shakespeare, the most renowned playwright in the world, was born.
 We started this tour by visiting the cottage of his wife: Ann Hathaway.  She was from a very rich family, which is clearly reflected in the family's clothing and furniture which were beautifully displayed in the delightful cottage.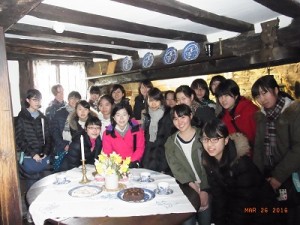 We took some photos of the lovely garden. "One, two, three and smile!"
Then, we walked along the church yard to Holy Trinity Church, where Shakespeare was christened and buried.
People in the church seemed to be busy preparing for the Easter Sunday Service. Flowers for celebration were beautifully arranged and we could hear the organ being practised.
We went into Shakespeare's Birthplace, a big cottage.  There we could see a lot of leather gloves and tools for artisans since his father was a glove merchant.
We were able to request two actors to play the most famous scene in his play, "Romeo and Juliet" on the small circle stage in the garden.  Also we saw the wall book which introduced all of Shakespeare's play.
After lunch, we visited Warwick Castle which was built in the 11th century.
Climbing up the thirty-nine meter high Towers brought us to a stunning views of the landscape which made us feel as if we were warriors in the European Medieval age.