SSIP17日目は、午前中にジブリ美術館へ行って、午後は多文化協働プロジェクトと合気道部の練習にも少し参加させていただきました。ジブリ美術館では、電車の遅れなどで観賞する時間が少し短くなってしまったのですが、美術館でしか見れないショートフィルムや展示物を観たり、グッズを真剣に選んでいる留学生もいて、それぞれ楽しんでいる様子でした(*'▽')
多文化協働プロジェクトの後に合気道部の練習に少し参加し、簡単な護身術をレクチャーしていただきました。留学生はみんな体を動かすのが好きなようで、習った護身術をノリノリでペアを組んだ子に試していました^^多文化協働プロジェクトの時間に最終日のプレゼンテーションの練習をしていて少し緊張感のある雰囲気だったのですが、体を動かして気分を切り替えられたのではないかなと思います♪
Japan Studies: Activity⑦ Ghibli Museum
Today was the long awaited visit to the Ghibli Museum! We were welcomed at the museum by none other than Totoro, who was waiting for us at the entrance of the museum! Inside, we could walk through several rooms that took us through the journey of how Miyazaki created his animated films. We even got the special treat of being able to see a short animated feature that could only be seen at the museum. The students were even able to go to the rooftop where a 5 meter tall Laputan robot (from "Castle in the Sky")towered over as the guardian of the museum! Other popular attractions included physical recreations from "Howl's Moving Castle," and props from "Kiki's Delivery Service."
Cross-Cultural Workshop ⑧
In the afternoon, the groups for the Cross-Cultural Collaborative Workshop practiced their presentation that they prepared at Tomei Gakurin. Many of the presentations involved themes about marriage, love, career, education, and other related issues to gender roles in different societies. The students were able to summarize the data they gathered from their peer interviews into concise powerpoints. Many of them were funny and full of great information! The audience was also able to give feedback to the groups, so they will be able to make great presentations on Saturday, before the closing ceremony!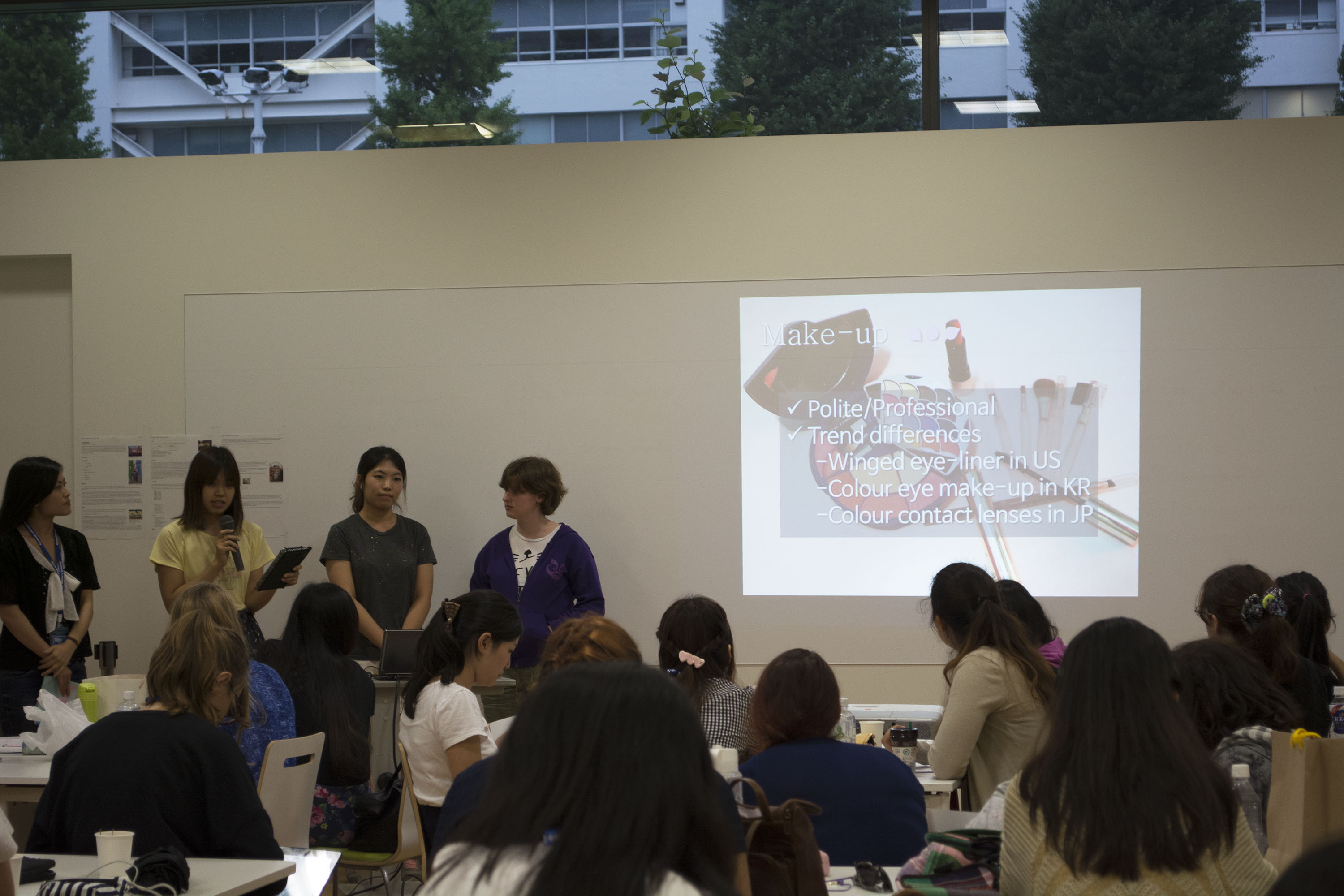 Aikido Practice and Demonstration
After the presentations, the participants got a chance to see the Aikido club in action.The club advisor walked us through some of the basic moves of Aikido (both sitting and standing), and the students in the club demonstrated for us. Afterward, we were able to witness a faux match between two of the Aikido club members. The member with the red belt won with much cheering from the audience! The international students were also able to try out some simple Aikido moves with some help from the club members. Even though we were not able to flip each other over (like the Aikido club members), we still learned a lot about this Japanese martial art!