SSIP7日目は、Free Dayでした。留学生それぞれが、東京の行きたい所へ行ったり買い物をしたりと自由時間を楽しんだようです(*^-^*)
SSIP8日目は、午前中は日本の美術について学び、午後は歌舞伎とポップカルチャーについて学びました。日本の芸術に関して学ぶ一日でしたが、どの講義も興味深げに受けていました。
+++++++++++++++++++++++++++
June 29th, Monday
Free Day
SSIP students had a free day on Monday, and many of them went out to explore! Everyone spread out all throughout Tokyo, with some going to Akihabara and Shinjuku and others going to the Imperial Palace, temples, and gardens! It seems as though Tokyo is becoming a more familiar city for everyone!
June 30th, Tuesday
Japan Studies: Lecture ③ Japanese Art
After a restful and fun free day on Monday, the students came back to Showa for a full day of lectures! The first lecture was on Japanese art, where students learned about the symbolic importance of flowers and seasons in Japanese culture. Professor Tanimura took the time to explain the meaning of symbol and how they are incorporated into contemporary Japanese life and art. Overall, the students learned about the appreciation of nature and its significance to Japanese life.
Japan Studies: Lecture ④ Kabuki
After a quick lunch, the students joined Professor Oyatsu from the Department of History and Culture who gave a lecture on traditional Kabuki. She explained to the participants about the history of Japanese dance and the mechanics behind the kabuki stage. This included explanations of a spinning stage, a runway and sound effects. Additionally, Professor Oyatsu described how the art is performed only by adult males and the significance behind different facial expressions, poses, and special effects. Some old clips of a kabuki play were also shown to help the students understand the elaborate nature of each performance, and two graduated students of Showa gave a presentation about kabuki make-up.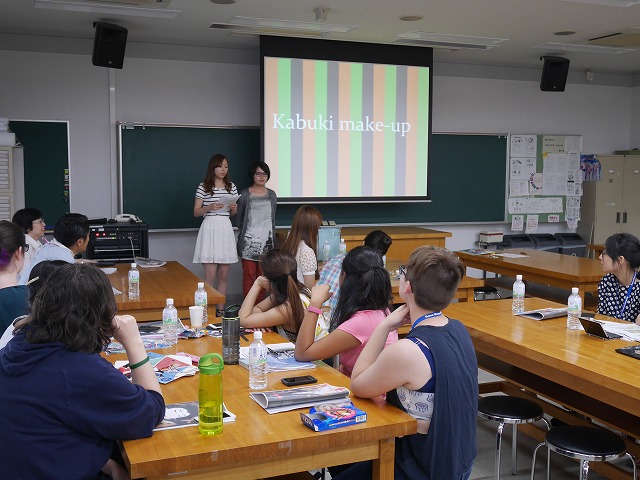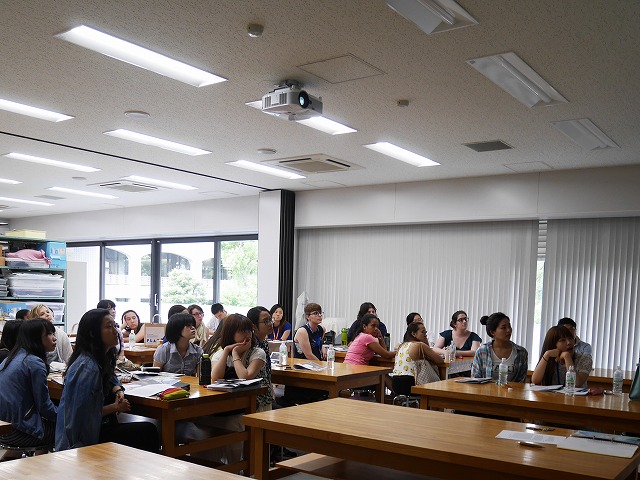 Japan Studies: Lecture ⑤ Japanese Pop Culture
For the final lecture, the students dove into the world of anime and manga by learning about its unique history and its rise to global popularity! The lecture included some unique genres of manga comic books brought by lecturer Yu Shigematsu, who is himself a huge anime and manga fan! Professor Shigematsu explained about the development of the famous Ghibli Studio, which was a great way for the students to think about Ghibli before their trip to the museum! Along with getting to learn about the history of anime film, the students learned about popular themes and tropes of anime, and how these themes reflect common themes found in everyday Japanese society.