この2週間は、私は昭和女子の中高部を訪れていました。
毎日、私はクラスに出席したり学生と昼ごはんを食べたりしました。 
私は書道と茶道と生物学を含む多くの興味深いクラスに出席し、体育の授業では最初に5分間ランニングがあり、たいへんでした。
そして英語の授業中、私は教師のお手伝いしました。
毎日放課後,English Room に行きました。
English Roomの中は、学生が外国人教師と英語ではなします。
毎日、私は学生とアメリカの学校生活について話しました。学生の英語はとても良かったです!
でも、毎週木曜日、私はクラブを訪問しました。ダンスと剣道を訪問しました。
ダンスクラブの間に、私は一年生と"Girlfriend"の曲にあわせて踊りました。難しかったですけど、とても楽しかったと思いました! 
剣道では掛け声が大きかったので、私はそれが少し怖いと思いました。でも、生徒は楽しんでいたように見えました。 
今回は、詳しい内容は英語でかきます。



The first week, I was with class 4D, and the second week, I was with class 5F.  They were incredibly sweet to me – a few of the girls wanted to go to American university or study abroad in an English-speaking country and had amazing English, so they translated the lectures and homework for me. All of the girls had really good English, which surprised me – we had to take Spanish in my school, but none of us were any good!
The school life at the high school was very different from my high school experience. I never had a homeroom, so I was with different classmates for every subject and I never had morning or afternoon meetings. I was also surprised that they ate lunch in their classroom – I always ate in the cafeteria or went out to a restaurant! And students at my high school definitely never had to clean our school. I really liked the cleaning time at Showa, though – it gave me a chance to meet students from all grades, and afterwards we played fun Japanese games! One day, we played dodge-ball, which I thought I knew how to play – but the Japanese rules are very different!
I got to attend a huge variety of classes. Some classes were very similar to my high school, such as math, chemistry, and biology, and I could understand the lectures fairly well. I even took an exam in chemistry class, but I think I did pretty poorly because I couldn't understand any of the kanji. Other classes were very different, such as the Japanese culture classes. I attended both calligraphy and tea ceremony class, which were both very difficult. My calligraphy was pretty atrocious, but one of the students in the class wrote my name in kanji for me beautifully. Some of the students even drew American cartoon characters for me!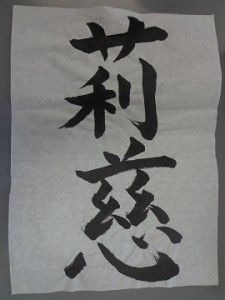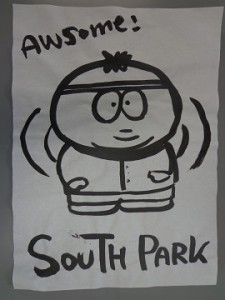 At the end of my time at Showa High-school, the girls from both 4D and 5F gave me beautiful going away presents, with handwritten notes in English. The girls in 5F even drew a picture of me! I will miss all the girls there so much – they taught me so much about Japanese school life, and I hope I'll be able to stay in touch with them.

I had a fantastic time at the Jr./Sr. High School, and this week, I'm visiting the kindergarten!