It was the first time I experienced  homestay in Japan for a day.
My host family guided me about their house expecially how to use "ofuro". Then my host sister brought me to department store near their house. It was the first time I took "purikura".
In cambodia, there is no modern purikura like that. So I always want to take it in Japan. I was so excited that I could make it with my cute sister.
Then we returned home to have dinner. Dinner was so delicious. We ate together while watching firework on tv and talked about many fun things. I really enjoyed it at that time. Then they showed me a nice Japanese-style room for sleeping. It was the first time I slept in "washitsu". It was so comfortable and interesting. I really slept well 🙂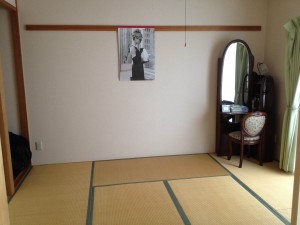 Next morning, we had a big breakfast together then we went out. They brought me to Yokohama landmark.
I felt so fresh seeing the beautiful view of yokohama. We did take a lot of photos there. Then we went to 5 stars hotel to eat delicious cake. I really love Japanese cake. I really enjoyed eating it while seeing a nice view around . There they aked me about my dream, what I want to do in the future. I told them that if I have a lot of money, I will open okonomiyaki resturant in cambodia.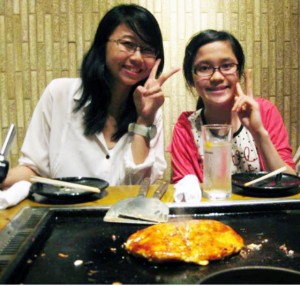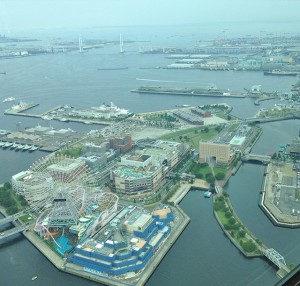 Then they brought me to okonomiyaki restaurant. I was so touched. They are so kind. They are one of the people who helped me to reach my dream. I took video carefully about how to make okonomiyaki and the decoration of restaurant.
I really had a nice moment with them. A day with them was so short. I didn't want to leave them. But due to the time, they brought me back to the dorm. I'm really grateful to my host family. They really took  good care of me and made me feel so warm. I love them. Homestay was such a nice experience I had for my first time in Japan. Thank you so much !!!