2013.7.24—The third day of the SWU Summer Program was focused on
fashion
.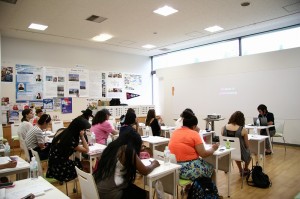 For our morning lecture, Professor Koga, author of The Empire of Cute, presented students with a lecture on "kawaii," the Japanese ultra-cute aesthetic that has gained a foothold around the world. The lecture included a history of the term, a list of different types of kawaii, and the results of the professor's on research into what people perceive to be kawaii and how that differs across demographics.
The lecture also discussed kawaii's disappearance from the covers of magazines aimed at young people and its adoption by media targeting a slightly older demographic. Some students stated that they were surprised to learn just how pervasive the cute aesthetic was — even old men aspire to be kawaii. Other students appreciated the fact that the lecture looked at many different kinds of kawaii instead of treating it as a single monolithic aesthetic.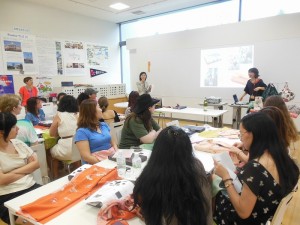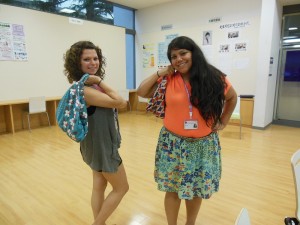 After lunch, students participated in a fashion-related activity, learning about the traditional art of furoshiki, or cloth-wrapping.
With a simple square of cloth, it is possible to wrap gifts, carry large bottles securely, and make many different kinds of bags. Though the practice of furoshiki waned in popularity after World War II as consumer culture was on the rise, it has recently enjoyed a resurgence of popularity with the advent of the eco movement, as it is a fashionable, green alternative to paper and plastic bags. At the end of the lesson, students were given their very own furoshiki cloth to keep.