SSIP3日目は、昨日に続き日本の理解を深める講義と活動、さらに多文化協働プロジェクトと盛りだくさんの一日でした。
お昼は、このプログラムとは別に来日していたアジアの若手エンジニアと坂東学長にもご一緒いただき、お昼を食べながら交流を深めました。学生とは異なる立場の方を招いてのランチはとても刺激的で、英語だけでなく複数の言語が飛び交っていました!

Japan Studies: Activity② Cloth-folding(Furoshiki)
We started out the morning with furoshiki (cloth-folding), and the students learned how to use cloth to wrap items (like boxes and bottles) with simple folds and knots. They also made different styles of handbags, and were introduced to how furoshiki is being incorporated in modern Japanese culture. At the end of the presentation and activity, the students were generously gifted with some furoshiki cloth!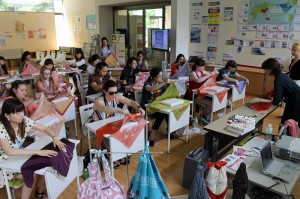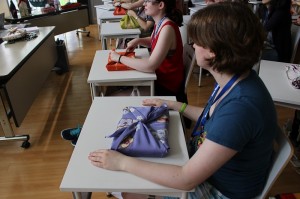 For lunch, the SSIP participants and some Showa students were joined by the BHN (Basic Human Needs) Association that was holding training in Tokyo and also President Bando!  Some of the BHN Association members were from the international participants' home countries, and they had a great time talking and sharing their backgrounds.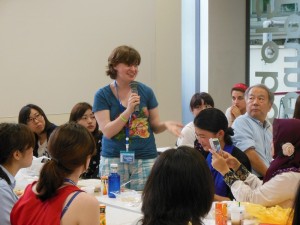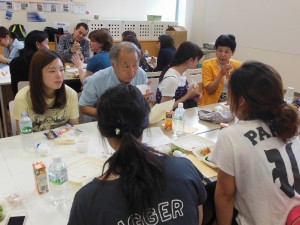 Japan Studies: Lecture② Japanese Religion
In the second lecture today, the students learned about the history of Japanese religion from its historical origins to contemporary society. The students analyzed the difference between "Shukyo" and "Shinjin" and also looked at the nature of Japanese religious behavior, religious division of labor, and rituals in an individual's life.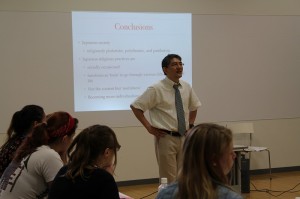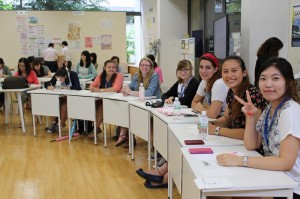 Cross-Cultural Workshop ②
For the second Cross-Cultural Collaborative workshop, Nico gave a lecture on Beauty and the Body and pointed out the different styles of what was considered "beautiful" in Japanese history. Before arriving to Japan, the students were asked to bring an item from home that is of significant importance to them. In small groups, they shared their items and explained why it has such meaning to them.