SSIP2014 6-7日目のホームステイ体験談、第2弾です!
カンボジアからの留学生の体験談を紹介します。
Homestay 2: Student from Cambodia
My name is Chanpisey Lim. I am Cambodian. I would like to thank SSIP for providing me an opportunity to live with my host family. I experienced living with a local family in Japan for one night and two days. The family's name is Fukai, which includes Fukai Masaki (a sixty five-year-old husband), Fukai Toshie (a sixty three-year-old wife) who is a former student of SWU, and Fukai Miki (their twenty five-year-old daughter). On the way to their house, they asked me about food that I want to eat and places that I want to go, so, truthfully, I told them, "I do not really have any special recommendations besides going to Fuji Mountain, but I know that it is far from your home so I will not ask to go there." Anyway, just spending time with them staying at home, learning the Japanese language and culture, and cooking are enough to me. Arriving at their home at about 3PM, they gave me a glass of Japanese green tea (ryoku-cha) with rice crackers (senbei) and cookies. They gave me very nice gifts and I brought some gifts from Cambodia for them too. Then, we walked to a local supermarket to buy ingredients for our dinner. They decided to cook Rei Shabu (cold pork salad) because this is a seasonal dish for summer. After that, we went back home and cooked. I helped her boil the pork and took many pictures of her cooking. At about 7PM, we started eating a very tasty dinner by saying ''Itadakimasu", and we finished our dinner by saying ''Gochisou sama deshita".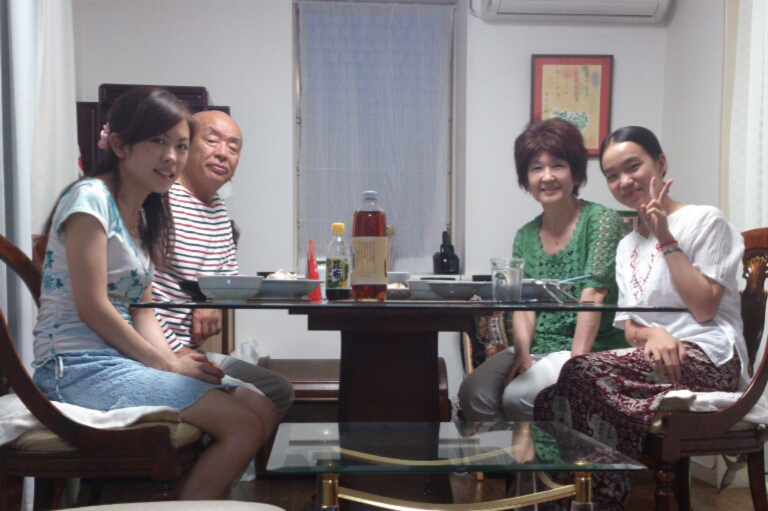 Then Miss Miki took me to a nearby primary school where there is a sport hall on the grounds. There, I saw Kendo (Japanese sport/martial art), which was very great to me, and people usually practice at night because it is the time that they come back from work or school.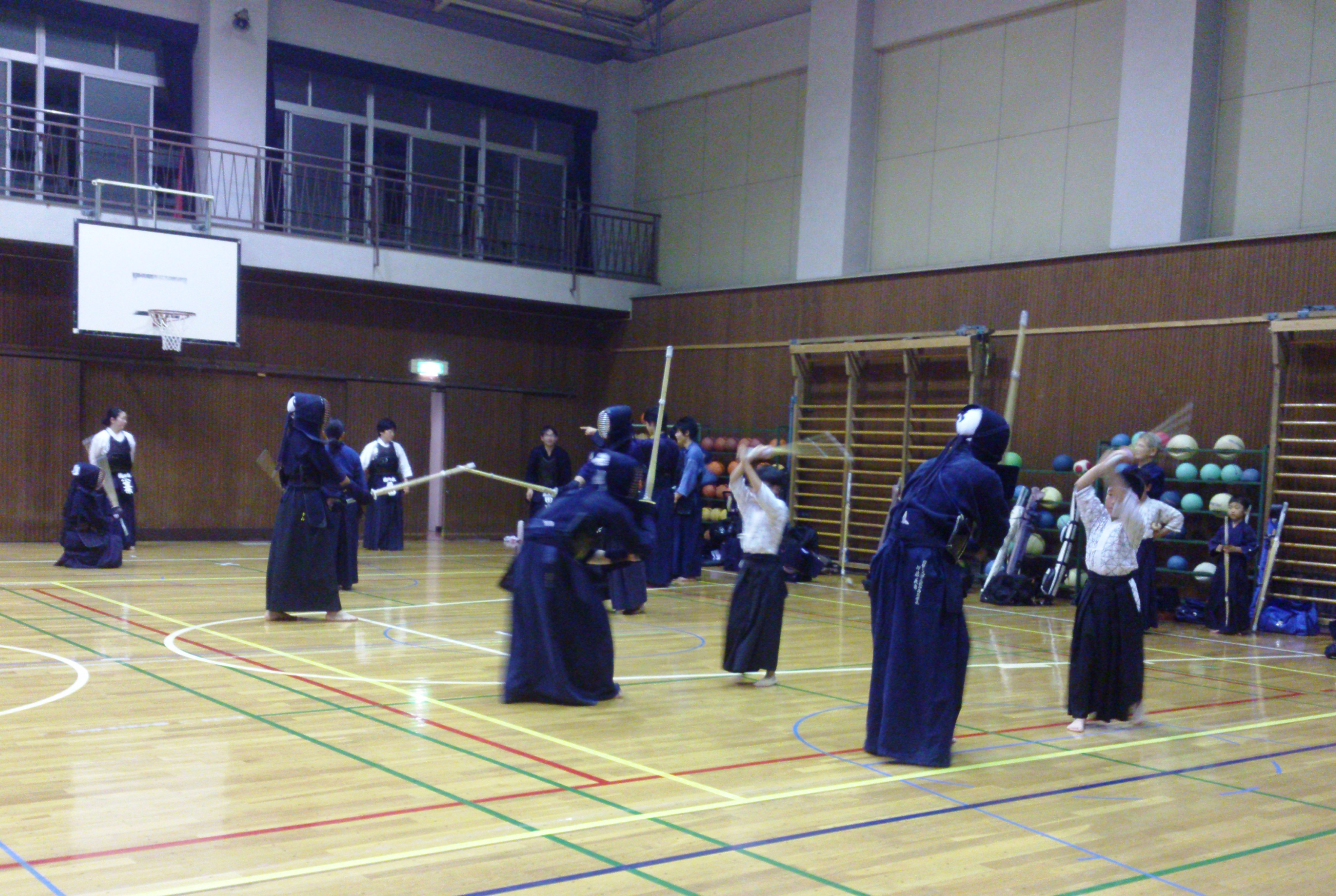 Back at home, we had a chat and I also asked them to teach me Japanese. We had so much fun. Bed time came close, so I decided to stop asking them questions and we went to bed. My bedroom was a traditional Japanese-style room (washitsu) with mat flooring (Tatami) and sliding door/window (Shōji). I slept on a futon laid on the tatami. Moreover, inside the room, there was an instrument, a piano, which I love to play very much. That night I slept very well.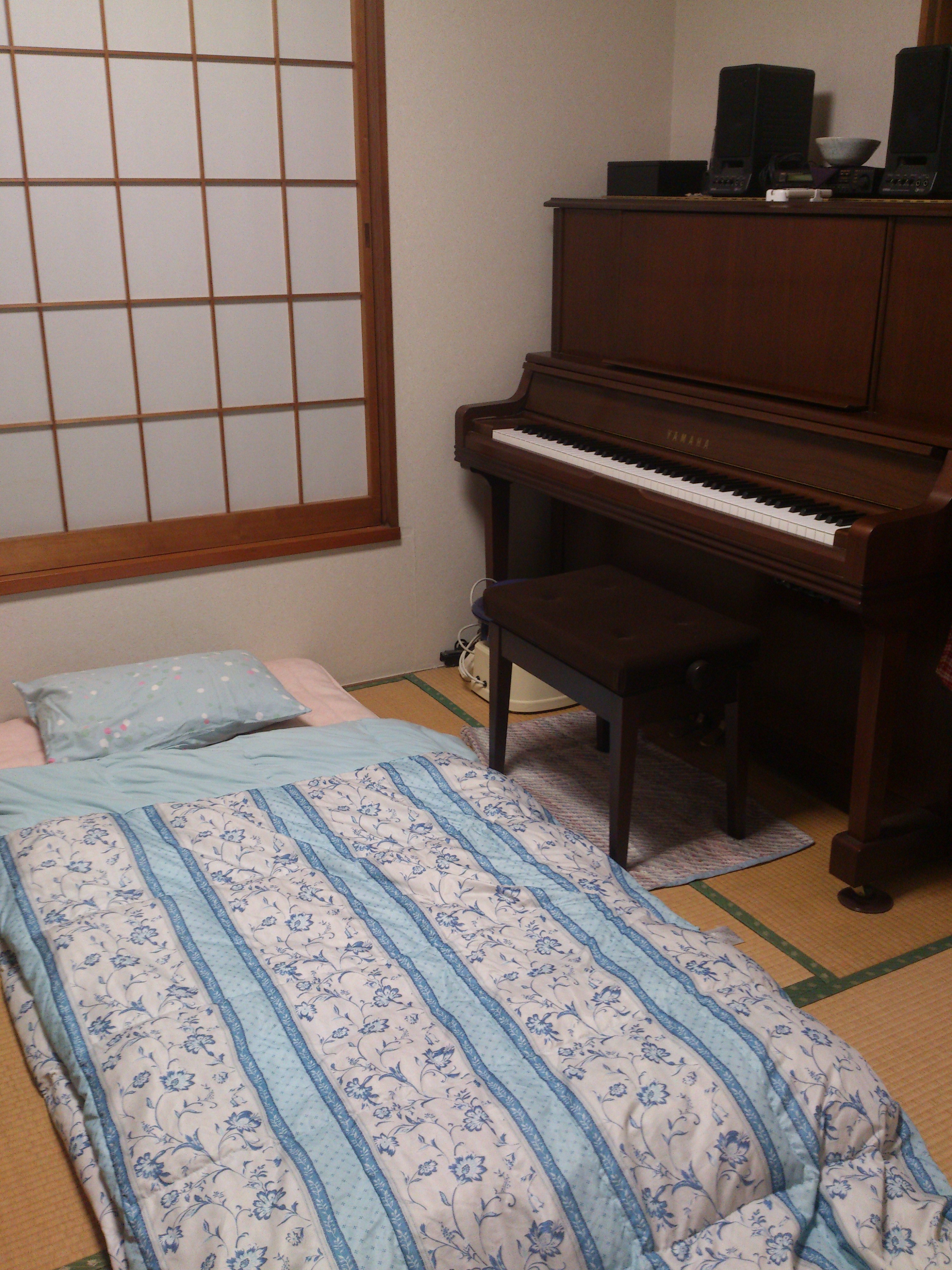 In the next morning, we had breakfast and then went to Mrs. Toshie's mother's house, located in Yukigaya, which is 50 years old. Her name is Tomi Kashima and she is 88 years old. Knowing that I wanted to go to Fuji Mountain, she gave me a big round cracker with Fuji Mountain painted on it. She also gave me a CD and folding paper (origami).
After we said goodbye to grandma, we went to Ikegami where the over nine hundred-year-old Buddhist temple Honmonji is located. There, I got a chance to pray for and offer flowers to Mrs. Toshie's father. I learned a lot about the Japanese tomb, patrilineal family system and history of Honmonji. Mrs. Toshie told me that she was very happy that I could visit her father's grave and I was too.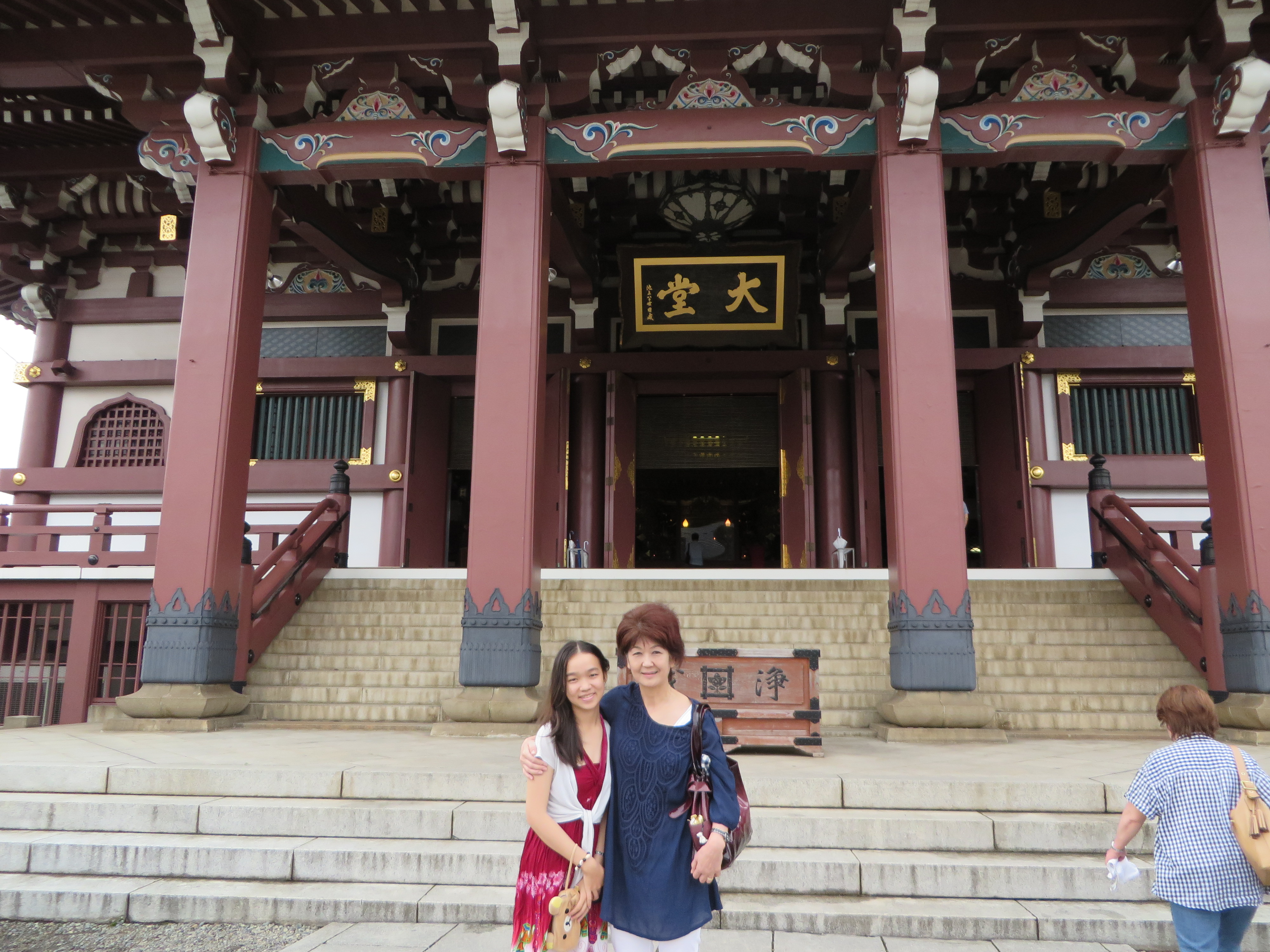 When we left Honmonji, we went to Kawasaki. Along the way there, we stopped at an old, Heian Era Japanese sweet shop where Ango are sold. We bought two flavors: soy sauce with sugar and red bean. Then we continued to Kawasaki. There, we watched a movie dubbed in Japanese because they wanted me to learn the language. Actually, I learned a lot of new words from that.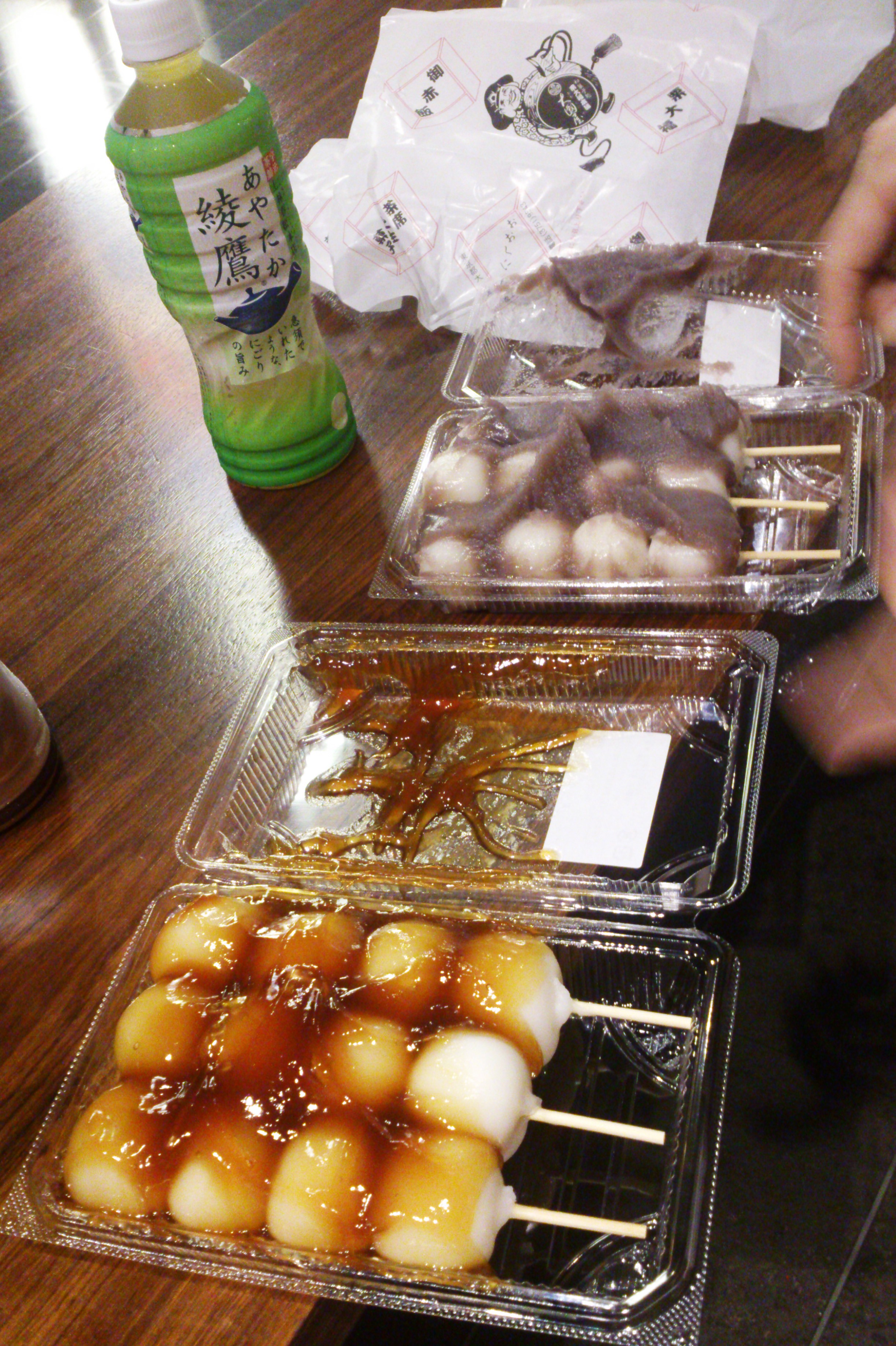 When we left the cinema, it was already 2PM and we went back home. Arriving home, they ordered Chinese food. We had dinner at around 5PM so that they could bring me early to Shibuya Station where I took the bus back to my accommodation. My two days and one night at my homestay came to an end with so much memory to remember and a promise was made to keep in touch and meet each other again one day. I cannot describe in words how much I loved staying with them. I felt like I was at home, and their generosity meant a lot to me. Finally, I would like to thank them for everything they did! I will always remember them. Having a loving, caring, and close-knit family in another country is happiness to me.