SSIP15日目は日本の食事を学んだのちに皆で楽しむ一日でした。昭和の学生が日本食のお気に入りを紹介したり、わらび餅の作り方を実演したりすると留学生は楽しそうに聞き入っていました。留学生にとってわらび餅は好き嫌いがあるかとも思いましたが、皆すぐにお腹におさめてその後の歓談を楽しんでいるようでした。「日本食体験」を兼ねたランチタイムでは日本のお弁当が提供されました。天ぷらや豆腐など日本人にとってはなじみ深い食べ物ばかり。ベジタリアンの留学生に配慮したお弁当でしたが、どの学生も満足した様子でした。
その後、「日本の女性」の講義では本学英語コミュニケーション学科の授業に入って受講。英コミの学生もこれまでに修得した英語を活かし、それぞれの国における「女性」について活発に議論が行われていました。
+++++++++++++++++++
July 7th, Tuesday
Japan Studies: Lecture on Japanese Food Culture
Today the SSIP participants visited the classroom of Professor Imai, who taught the students about Japanese etiquette and cuisine! After having some of her Japanese students present a short description of their favorite dish using pictures, the students were able to see a live demonstration of how green tea and warabi mochi are prepared! Afterward, students were able to sample the warabi mochi and the green tea for a refreshing treat! After eating, the international students were taught about proper table manners, which included an explanation on the correct method on how to hold chopsticks and also on how to avoid cultural eating taboos.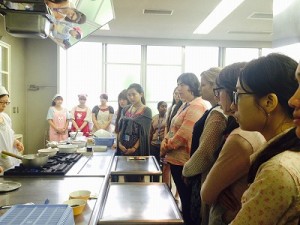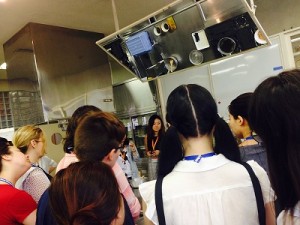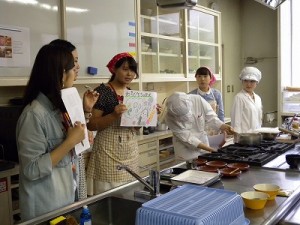 Tasting Japanese Cuisine
For lunch, the students were able to enjoy a traditional Japanese bento box, which included vegetable tempura, tofu, a side of miso soup, assorted vegetables and fruit, and a yummy pudding dessert! Everyone really enjoyed tasting authentic Japanese cuisine, which many of them have never experienced tasted before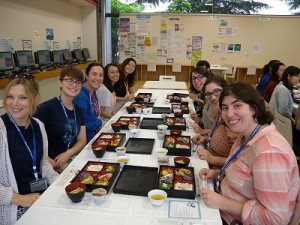 Japan Studies: Lecture on Japanese Women
In the afternoon, Professor Christie presented on Japanese Women, addressing issues such as the employment and wage gap between women and men, what higher education can do to help alleviate this inequality, and current feminist issues. By using statistics and graphs, the students were able to see how women in Japan have been dealing with these issues. There was a discussion between the students about females roles in their own cultures, and the lecture ended on a lighter note about how, despite there still being gender inequality, there has still been some tremendous progress toward equality made in Japan.