SSIP19日目は、引き続き東明学林での合宿をレポートいたします!
午前中は、最終プレゼン発表に向け、グループごとに準備をひたすら進めました。
東明学林では、集中して作業に取り組めたようです!
その後、夕食を済ませるとお待ちかねの花火TIME( ^◇^ )
思いっきり楽しんで、みんなで羽を伸ばしました!!!
Saturday, July 9
It was a slow, rainy morning at Tomei Gakurin as students prepared to finish their projects.
After a morning of group work, they took a quick lunch before starting their presentation practice.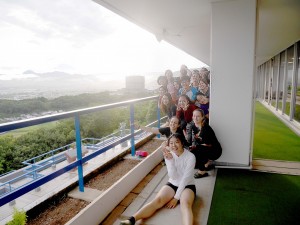 But as a reward for all their hard work, this evening we had an hour of fireworks! After a day of near constant rain, the weather cleared up, and everyone enjoyed playing with sparklers to celebrate their last night at Tomei.