2013.7.26—The theme of this day was kabuki, a form of Japanese theater that dates back centuries and still enjoys wide popularity today.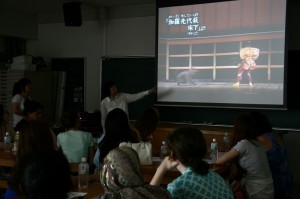 Professor Oyachi, an expert on traditional Japanese theater gave the students a lecture in the morning. This talk helped explain the history of kabuki and the origin of many of its most distinctive features, such as all-male casts. The lecture touched on all parts of kabuki: acting, lighting, stage design, and even the relationship between the actors and the audience.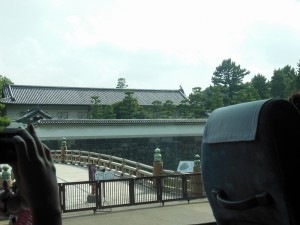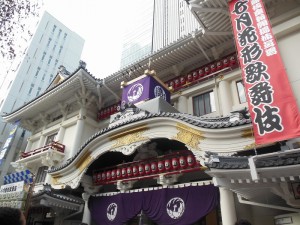 In the afternoon, students went on a chartered bus trip to Ginza, site of the Kabuki-za theater.
On the way, the bus drove around the Imperial Palace and many important government offices.
Upon arrival in Ginza, students were treated to a full kabuki play, using both the knowledge they learned from the morning's lecture and explanatory earphone guides to help them understand the play.
One student said that her favorite part of the play was the scene changes (kabuki theaters are equipped with rotating stages that allow more than one set at a time). Another student said that she found the speedy costume changes, with one actor playing multiple parts and switching quickly between them, to be very interesting.