2013.8.6—The theme of the day was Japanese cuisine.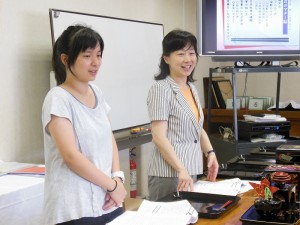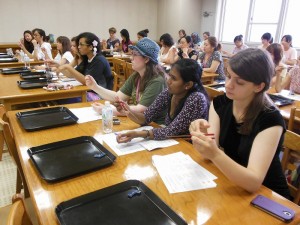 The day started with a lecture from a professor Imai in Department of Elementary Education. Her lecture looked at Japanese attitudes towards food and how this has changed over time, including traditional Japanese festival cuisine and the Westernization of the Japanese diet.
Next, students learned about formal Japanese table manners, which would come in handy in the afternoon activity. This section of the lecture covered things including the correct way to pick up chopsticks, enter a room, and remove a lid from a bowl.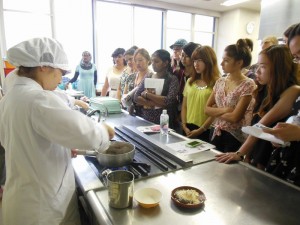 Lastly, students from department of food science and nutrition prepared program students tea and mochi, and everyone sat down to enjoy it together.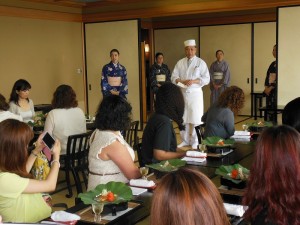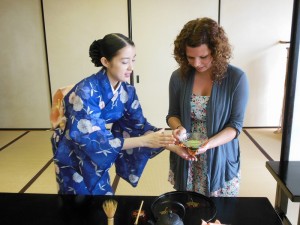 In the afternoon, students were taken to a, kaiseki restaurant the pinnacle of Japanese cuisine.
There, they were treated to a lavish multi-course meal tailored specifically to reflect the season of summer. The caterer explained the ingredients and meaning of each plate, and students were given the opportunity to make tea for themselves. Many students said that they enjoyed the dessert, which was a sweet tomato accompanied by noodles in cane sugar sauce, because it was "interesting and unique." Others expressed admiration for the beautiful decor of the restaurant, which covered everything from the hand-painted napkins (given as gifts to customers) to the slippers used in the bathroom.