SSIP5日目は終日学外に出かけ、前日学んだ東京の歴史を実際にこの目で確認する日でした。
最初に訪れたのは「江戸東京博物館」。当日の街並みを再現した模型や展示を見ながら、昔の東京にタイムスリップしたような経験をし、その後、浅草観光と外国人に人気の食品サンプル作りを体験しました。
とってもリアルにできたエビの天ぷら模型にはビックリ(゜o゜)
This morning, we headed out to the Edo-Tokyo Museum, where the SSIP participants were able to learn more about the history of Tokyo. There were many interesting artifacts and relics from past times at the museum, including life-size recreations of the Nihonbashi bridge and the living quarters of past generations. One student said that she really enjoyed the miniature model displays at the museum, and how some of the exhibits were interactive!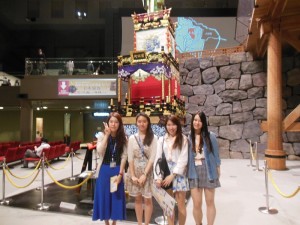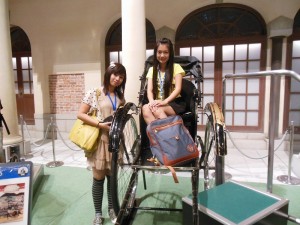 Some participants also admired their souvenir shops where they sold traditional Japanese goods.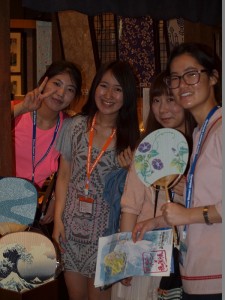 In the afternoon, participants went to Asakusa to tour the streets and visit the historical Senso-ji Temple. At the temple, they prayed for good luck, and drew fortunes. While some receive good fortunes, others had bad ones, but they were able to leave their bad fortunes behind at the temple. After visiting the temple, the students toured around the nearby streets of Asakusa, which were bustling with people. There were many shops in the streets, including stores that had local foods, souvenirs, and traditional wear. The experience was like traveling into the past! Also, in spite of the rainy weather we were able to walk by the "Sky-tree Tower". It was so tall, we had a hard time fitting the whole thing inside our picture.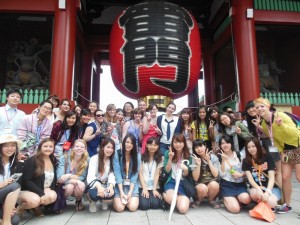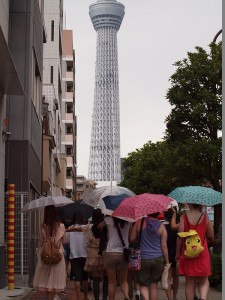 After the little walk, the students also made food samples today. This is actually one of the most popular activities the foreign tourist enjoy, since food samples are an unique Japanese culture that helps the customers choose what they want to eat.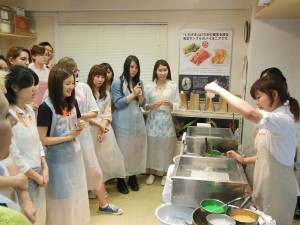 With the help of the staff at the food samples store, students made a shrimp tempura and heads of lettuce. Even though it was their first time, the students manage to make their food samples quite well and realistic. Look at that tempura! Doesn't it look yummy?