SSIP20日目(最終日)、多文化協働プロジェクトの最終プレゼンテーションと閉会式・送別会を行いました。多文化協働プロジェクトの最終プレゼンテーションでは、3週間でよくまとめたなと感じるくらいとてもいいプレゼンテーションでした。閉会式では、坂東学長より留学生と多文化協働プロジェクトを履修していた日本人学生に修了証が手渡されました。みんな3週間やりきったというような達成感に満ちた笑顔で受け取っていました。
送別会では、もうすぐそれぞれの国へ帰るということもあり別れを惜しんでいました。中には目に涙をためた留学生がちらほら。お互い連絡の取りやすい連絡先を交換したりSNSでつながりを作ったり、このプログラムが終わっても交流が続いていくんだなと思うとCIEとしても嬉しく感じました。彼女たちのこれからの活躍と素敵な人生を送られることを心から祈っています(*^-^*)
Cross-Cultural Collaborative Project (Final Presentations)
The first event of the day was the presentations of the final Cross-Cultural Collaborative projects of this year's SSIP participants! One professor who came to see the presentations said that she could really tell how much effort and hard work the groups put into making the projects. Several of the groups improved tremendously from the practice presentations, and one group even changed from a PowerPoint to presenting an original animation and conducting a panel discussion. It really seemed like all of the Cross-Cultural students were able to learn a lt about gender and its societal role (incorporating relevant themes such as family, marriage, romance, career advancement, etc). From their interviews of each other, they were able to analyze and synthesize a great amount of data into interesting and thought-provoking presentations? the exact purpose of this anthropological assignment!
SSIP Closing Ceremony and Farewell Party
As part of the closing ceremony, Bando-sensei presented each international participant and Cross-Cultural Workshop student a certificate confirming their completion of the program.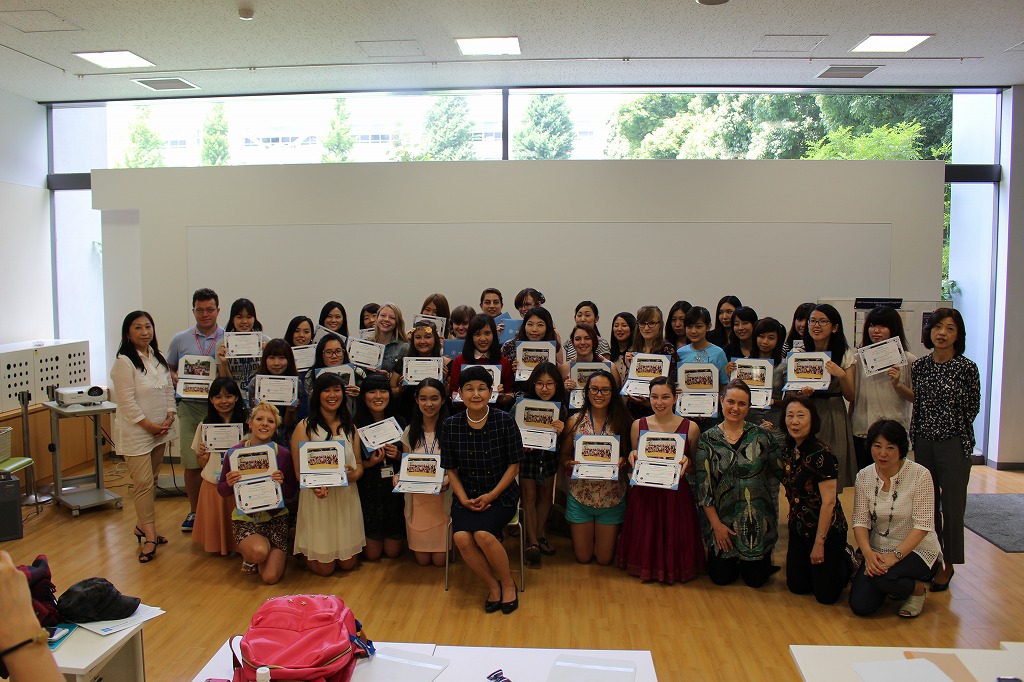 At the farewell party, delicious food was provided, memorable pictures were taken, and many tears were shed. Chanpisey Lim, one of our international students from Cambodia, stated that this was not goodbye, but a hello to new adventures and reunions in the future. Each students spoke a little bit about their experience here in Japan and several students said they were "able to learn so much" in just a short three weeks! They couldn't believe how fast time went by! As the party came to a close, the students began to part ways, but we said goodbye hoping that our paths will cross again in the future.