SSIP2019では4名のコーディネーター・インターン生がプログラムの運営に協力してくれることになっています。うち2名は本学の学生です。
5/21(火)より国際交流センターでSSIPのサポート業務を開始しております!
早速、本人たちからのプロフィールをご紹介いたします。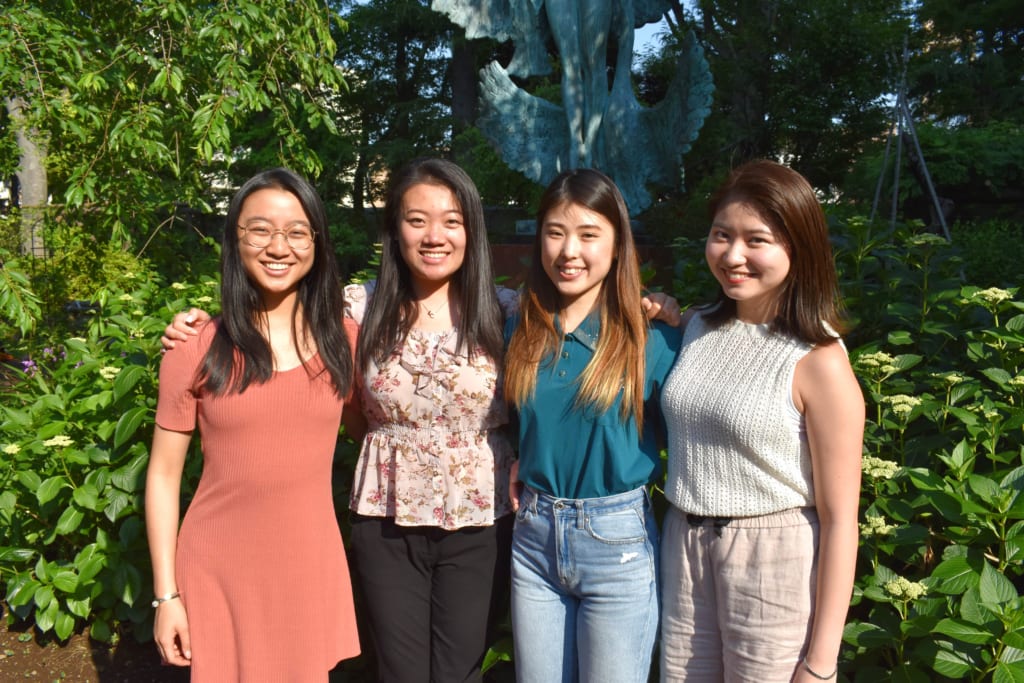 Yifan Chen

 (ハーバード大学 インターン生)
Hello! My name is Yifan Chen, and I am a rising junior at Harvard majoring in Sociology. I am particularly interested in topics concerning migration patterns and educational inequality, with a focus in East Asia. I've also lived in many places throughout my life: Fujian (China), New York (US), Florida (US), and Massachusetts (US). I love to learn about different cultures and the lives of people from all over the world, and this love brings me to the beautiful city of Tokyo this summer. This is my first time in Japan, and I'm already loving it here! I cannot wait to learn even more through working with the CIE team and meeting everyone at SSIP 2019!
Rachel Phan

 (ハーバード大学 インターン生)
Hajimemashite~ My name is Rachel Phan, and I am a rising third year student at Harvard University. I study Environmental Science and Public Policy, with a minor in East Asian Studies. I'm most interested in designing environmentally friendly cities for people to live in, which is why Tokyo is so fascinating to me: it works very differently from Boston, where I grew up. I am also very passionate about women's rights. Outside of academics, I like to dance hip hop, find delicious food places (I have a big sweet tooth!), and talk late into the night with my friends. I'm looking forward to experiencing Japan's amazing culture for the first time and meeting you all!
Miyu Otani

 (コーディネーター)
Heyyy! My name is Miyu Otani, and I am a third year student at Showa Women's University. I am majoring an English Communication. I am interested in the other cultures and really like traveling and food. I want to know not only the other cultures, but also Japanese culture. There are many things that I do not know but I should know in Japan. I am glad that many people are interested in Japan and excited to meet you guys! Let's explore Japan with usss!
こんにちは!英語コミュニケーション学科3年の大谷実由です。旅行が好きで、違う文化を知ることが好きですが、日本のことももっと知りたいです。今回のインターンシップを通して他国の生徒と一緒に日本の文化を改めて知り、発見していくことが楽しみです!!よろしくお願いします!
Yuna Yamaguchi

 (コーディネーター)
Konnichiwa! My name is Yuna Yamaguchi. I am also studying English Language Communication at Showa Women's University. I like traveling, dancing and getting ICE CREAM. I studied abroad in Boston last year, and experienced so many things with friends who are not Japanese. It was great time for me. Therefore,now, I want to share our culture with you all!!! I cannot wait to meet you and to explore Japan with you! See you soon:)
こんにちは!英語コミュニケーション学科3年、山口裕菜です。インターンシップで活動するのは初めてで緊張もしていますが皆さんと日本について学び、日本のいろんな場所を訪れシェアできるのを楽しみにしています。よろしくお願いします!
---
Yifan & Rachelと英語を使って会話してみたい方や、交流をしたい方!
4人は平日10~16時に出勤しています。
国際交流センター(CIE)に是非立ち寄ってみてくださいね♪