2013.8.3—Saturday was another cross-cultural project day.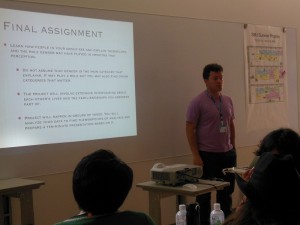 In the morning, Nico came in and gave a talk on the history of beauty in Japan.
Starting from the Heian period and going up to the modern day, his talk catalogued the different traits deemed desirable or undesirable at different times, highlighting the fact that there is no such thing as a universal aesthetic. Many students reported this to be their favorite part of the day. One student said that it was fascinating for her because "you forget that things like beauty change over time and are not universal." Another found the lecture's look at male beauty to be very interesting.
Next, students broke into groups and discussed ways in which gender expectations are presented in their countries. Students showed videos featuring gender-swapping, news stories about the education of women, and told personal stories about the gender expectations their family placed on them.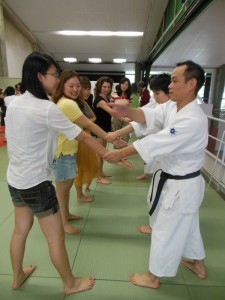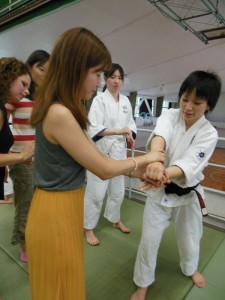 After lunch, students went to see a demonstration from the Aikido club at Showa.
The club members illustrated various techniques and did some sparring. After that, program participants were invited to learn and try several Aikido moves.
After the Aikido demonstration, students regrouped for more work on the cross-cultural project.
Nico gave another lecture, this time on different philosophies on how to go about social science research. Students then watched clips illustrating good and bad interviewing techniques. Then, in groups, students brainstormed questions for the oral histories they would be collecting as part of the cross-cultural project.