SSIP15日目は、FreeDayでした。池袋や新宿でショッピングをしたり、中には早起きして築地市場へ行ったり東京ディズニーランドへ行った留学生もいたようです。金曜日から日曜日までみっちりプログラムがあったので、久々に一日丸々の自由時間でリフレッシュ出来たのではないでしょうか( *´艸`)
SSIP16日目は、午前中に歌舞伎について学び、午後は皇居周辺をバスツアーしてから歌舞伎鑑賞教室へ行きました。皇居周辺へバスで行く際に秋葉原を通ったのですが、日本のポップカルチャーの代表的な場所ということで留学生も席を立って写真を撮ったりしていて興味津々な様子でした!
SSIP students had another free day on Monday, and many of them went out to explore! Some woke up early to see the Tsukiji Fish Market and try the fresh fish there. Others went out to entertainment districts, such as Odaiba and Tokyo Disneyland. Those who wanted to shop travelled to Ikebukuro and Shinjuku. Seems like everyone is getting more familiar with the city!
Japan Studies: Lecture⑩ Lecture on Kabuki
On Tuesday, we started off the morning with a lecture by Professor Oyatsu from the Department of History and Culture. She explained to the participants about the history of kabuki and the mechanics behind the kabuki stage (such as the spinning center and the hanamichi platform). To prepare us for watching a short kabuki act later, Professor Oyatsu described how the art is performed only by adult males and the significance behind different facial makeup styles. Some old clips of a kabuki play were also shown. Professor Oyatsu even brought in her own kabuki puppet (a family heirloom), which has to be controlled by three people!
Bus Tour to Imperial Palace/Ginza
Soon after, we left SWU's campus to take a bus tour of Tokyo's most iconic and famous buildings. We drove by many treasured landmarks, including the Imperial Palace, the National Diet Building, the Prime Minister's House, Zojoi Temple with Tokyo Tower in the background, the shopping streets of Ginza, Tokyo Station, and pop-culture center, Akihabara.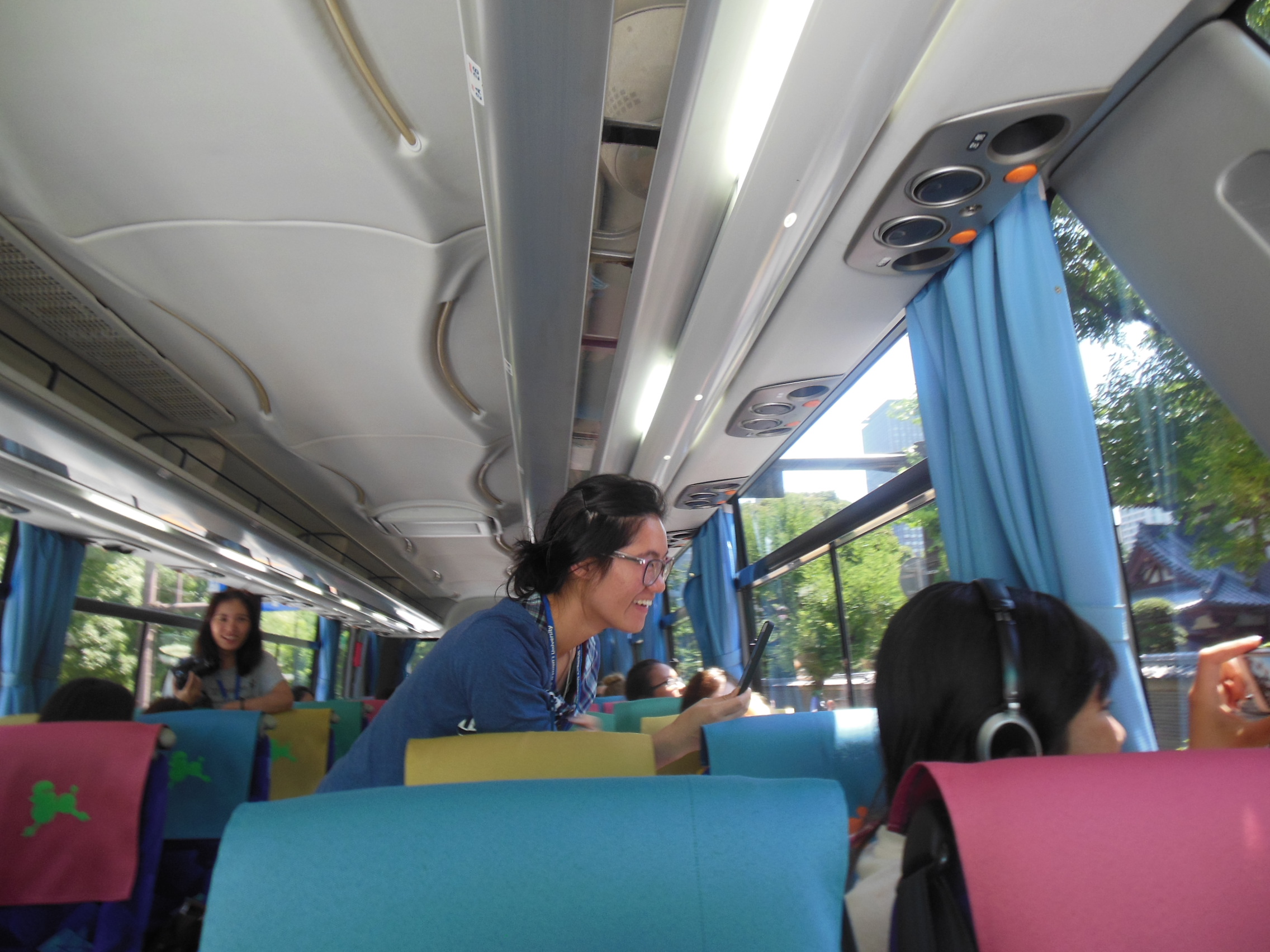 Kabuki Performance at the National Theater
After the bus tour, we went to the National Theater where the students were able to see a Kabuki performance titled Keisei Hangon Kō written by acclaimed playwright, Chikamatsu Monzaemon. The first half an hour was spent introducing the audience to how a kabuki is performed with sound effects and stage movements. Afterward, we were able to see the last scene of Keisei Hangon Kō. It was truly a great cultural experience!