SSIP4日目は、江戸東京博物館と浅草観光をしてきました。
午前中は江戸東京博物館で前日の講義「日本の歴史」を振り返りながら展示を見学、午後は浅草観光で浅草寺周辺を散策し合羽橋でフードサンプル作りを体験しました。
+++++++++++++++++++++++++++
July 26th, Friday
Japan Studies:Activity ② Edo-Tokyo Museum
This morning, we headed out to the Edo-Tokyo Museum, where the SSIP participants were able to learn more about the history of Tokyo. There were many interesting artifacts and relics from the past, including life-size recreations of villages, cities, and people. The exhibits were so interesting that many of the students said they didn't have enough time to explore the whole museum! However, many of them were able to interact with the exhibits, such as carrying hanging fish baskets over their shoulders and sitting on a rickshaw! Other participants spent a good time in the souvenir shop in order to admire and buy the traditional Japanese goods that were available.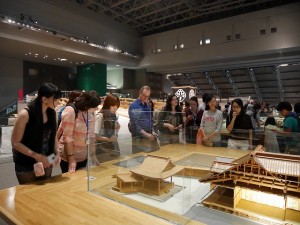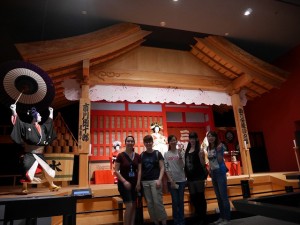 Japan Studies:Activity ③ Asakusa Sightseeing
In the afternoon, participants went to Asakusa to tour the streets and visit the historical Sensoji Temple. Ash Warren led the students on a brief tour of the temple, and afterwards the students were able to draw fortunes and pray. Others stayed near the center to breathe the incense, which is said to be able to heal any physical ailment! After visiting the temple, the students toured around the nearby streets of Asakusa, which were bustling with people. There were many shops in the streets, including stores that had local foods, souvenirs, and traditional wear. Even though it was raining, everyone had fun exploring the streets and trying new foods!
Afterwards, the students walked a little ways to make food samples. The students were very excited for this opportunity since food sample making is a very popular activity in Japanese culture, with many restaurants using them as a way to show off their menus. With the help of the staff at the food samples store, students either a shrimp or vegetable tempura and heads of lettuce. All of the food looked so realistic, I'm sure everyone was getting hungry just looking at them!